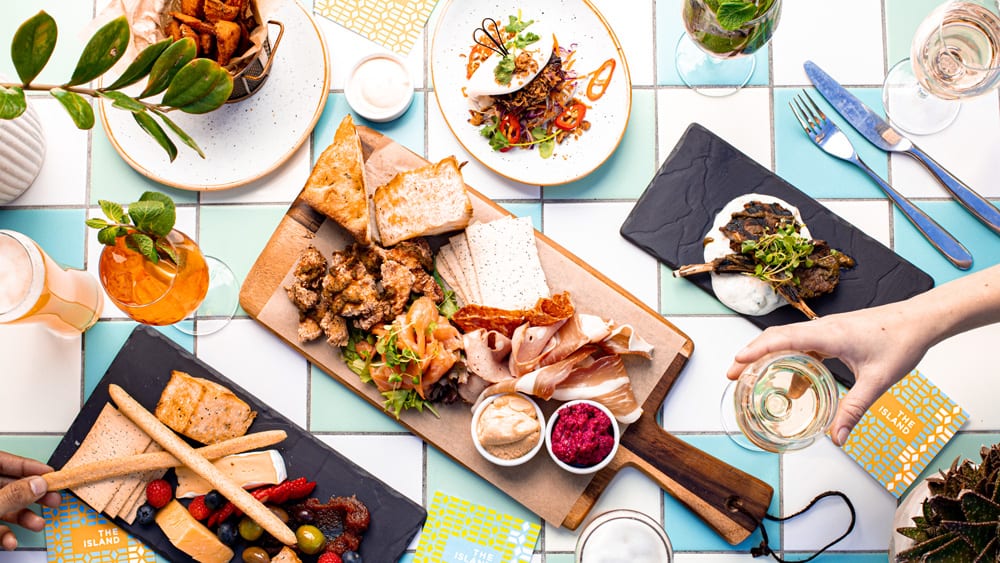 Grazy Days Lunch
Make the most of the Gold Coast's famously good weather and head to the Island Rooftop for the all new Grazy Days Lunch, available every Saturday and Sunday. Intent on offering a lunch with a difference, our Grazy Days menu is all about, you guessed it… grazing… suited to groups, sharing and basking in the Gold Coast sun.
Grazing-Style Lunch with Drinks Package
2 hour all-inclusive package – $69 per person
Menu – Served grazing style at the table
Grazy Days trio of dips: sun-dried tomato, avocado and beetroot hummus
Salt and pepper squid
Garlic and rosemary lamb cutlets
Garden salad
Chips with aioli
Cheese platter of soft brie, vintage cheddar, lemon and garlic marinated olives, quince paste, mixed fresh and dried fruits, grossini sticks, poppy seed crackers and wood-fired bread
Drinks Included:
Selected tap beers, house red, white and sparkling wine, Rooftop Spritz range (Rose, Grapefruit and Figue), softdrinks and juices
Kid's Eat Free*:
Choose from battered fish and chips, popcorn chicken and chips, margherita pizza, 1/4 chicken and chips
——
Every Saturday and Sunday from 12pm – 2pm
*Kid's eat free – one kid eats free per paying adult
Food menu may have changes week-to-week. Minimum 2 people on the Grazy Days package.
Online bookings available only for Grazy Days Lunch every Saturday and Sunday below: