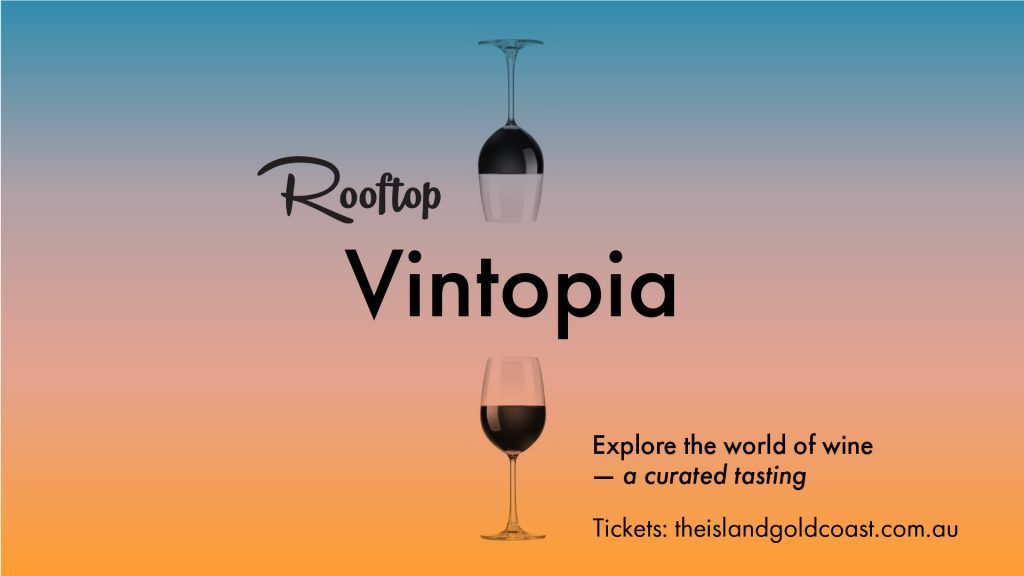 Vintopia! Gold Coast
Bringing you a blissfully unique and social way of 'wining' on a Friday afternoon.
The format of Vintopia is simple. Take a seat at one of the preset tables and let our tasting guru come to you. Taste nine wines plus receive a full glass of your favourite. All wines presented are available to purchase by the glass and bottle at the bar. Our Vintopia 'trio of dips with wood fired bread' and 'charcuterie board' are also available to purchase at the Eventbrite checkout.
Tickets: $20 + booking fee. Your ticket to Vintopia gets you a tasting of all nine wines plus a full glass of your favourite.
The Island Rooftop is open until late every Friday with DJs, cold drinks, tasty eats and open-air Gold Coast vibes.
Check out the upcoming dates below:
—–
While international travel is in its infancy again, we're bringing wines to satisfy your thirst for wanderlust at Vintopia. Sit back, relax and sip on some of the best drops from expert wine makers across the globe — no annual leave or quarantine required!
'From Where You'd Rather Be' – Friday 17th June, from 5pm – 7pm
—–
Like any good soap opera, there are occasions when wine needs to step up and make things a little more interesting on the palate. Cue the reds that know how to pack-a-punch! Take a deep dive into full-on-flavour with this hearty range of gutsy reds.
'Bold & The Beautiful' – Friday 15th July, from 5pm – 7pm
—–
Maths + Wine = Chaos Theory — a mysterious journey into a quantum labyrinth of varietals and flavours. Are deterministic laws at play, or have we rolled the dice on a selection of top-notch wines for you to discover?Only Einstein knows the answer.
'Chaos Theory' – Friday 29th July, from 5pm – 7pm
—–
Who doesn't love learning about the classics? Books, movies, grapes! These top drop varietals have a long established reputation across the globe, truly deserving their reputation as timelessly stylish.
'Sip 101' – Friday 12th August, from 5pm – 7pm
—–
There is no doubt that the humble grape has been giving us good times for several millennia. We think it's about time we compare some varieties from the old world (think Italy, France and Spain) with similar varieties from their new world counterparts.
'New World vs Old World' – Friday 9th September, from 5pm – 7pm
—–
FAQs
Can my group buy individual tickets and still sit together? Yes, come up with a catchy table name between yourselves, then include this table name in the field provided at check-out.
Are there ID or minimum age requirements to enter the event? This event will be restricted to over 18s only. There will also be a range of non-alcoholic drinks available.
What's the refund policy? If the venue is forced to close due to COVID restrictions imposed by the Government and the event is cancelled as a result, tickets will be refunded. We do not offer refunds for any other reason. No refund or transfer requests can be processed within 72 hours of the event commencing.