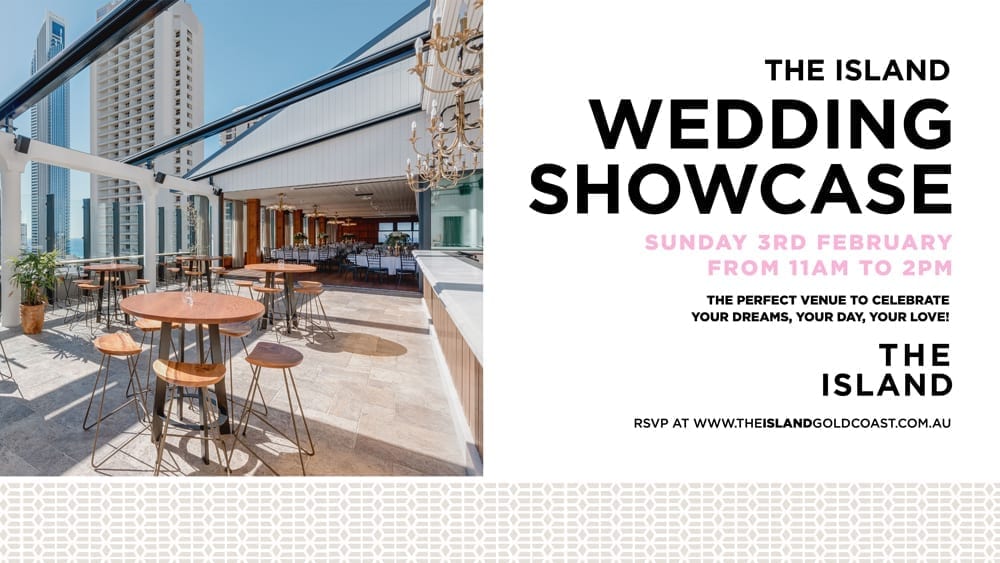 The Wedding Showcase
Whether you and your partner aspire to grand opulence or want something more intimate with a sleek, modern feel, The Island's Penthouse will truly make your special day perfect! The Penthouse is a spectacular venue designed with luxury interiors that bring the outside world in, with chic style that is unrivalled on the Gold Coast. It is more than just a venue, it is an experience that your guests will never forget.
The perfect venue to celebrate your dreams, your day, your love!
The Island Wedding Showcase
Join us at the Island's Penthouse for a wedding showcase featuring guided tours of our facilities, supplier exhibitions and capped off with complimentary refreshments and canapés – if you and your partner are looking for the perfect venue to celebrate your special day, you won't want to miss this!
Sunday 3rd February, from 11am to 2pm
This is a free event. RSVPs are essential by Wednesday 30th January – register your details below. For any enquiries please contact our Wedding Executive on (07) 5538 8000 or click here.
What some of our clients have said about their special day at the Island Gold Coast:
With less than three months before our Wedding day, we were searching for a suitable venue. In the end we found a perfect venue. Emma was amazing. Helped with our planning decisions, followed up, followed through and the day ran perfectly. Recommended suppliers were first class. The Island staff from food and beverage, venue setup and of course Emma – we couldn't be more impressed. The Island Penthouse and Terrace Bar are an amazing asset to the Gold Coast. First class and executed perfectly.
– Adam & Shirlee Loadsman
Gabby and I would like to say a big THANK YOU for all your help and organisation over the past few months. The Reception venue looked amazing and everything went really smoothly. The feedback from our family and friends was that the staff were awesome – really helpful and really nice. Everyone loved the venue too. All the food was awesome, the charcuterie boards were a big hit. All in all it was a great night, and we were so happy with how it all turned out. It looked absolutely beautiful!
– Josh & Gabby Blunden
I just wanted to tell you how amazing everything went on the day, it was magical! There's so many good things I could say, but really it all came down to the service – it was truly outstanding!! So many of our guests have commented about the incredible service they received from the Island staff. Please pass on our thanks to the staff, especially Adam – he went above & beyond to ensure we were happy! Thank you very much Emma, we really appreciate all of your hard work & months of planning – you made it so easy for us.
– Ashlee & Mike Evitt