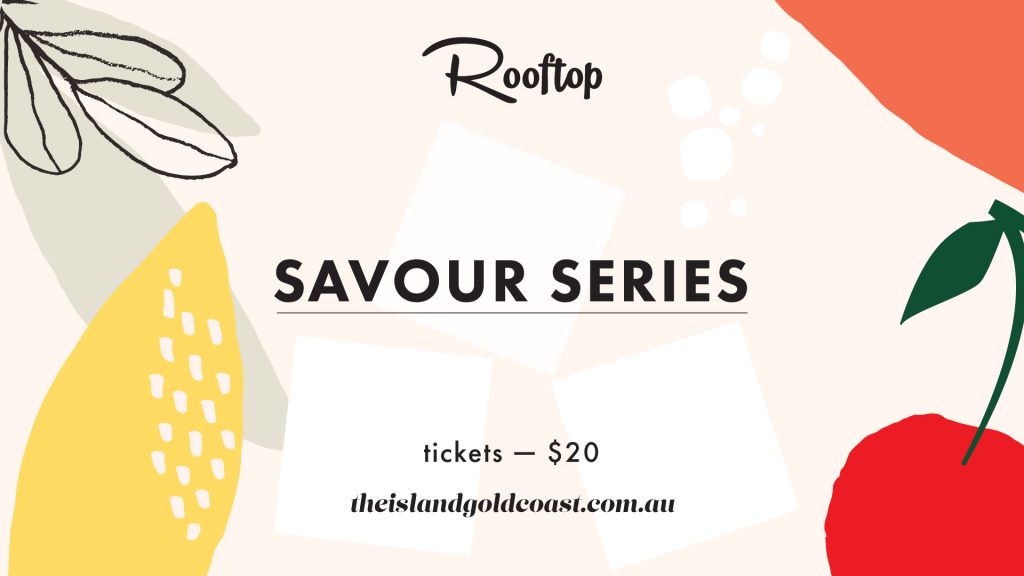 Savour Series
Savour the moment, savour the cocktail!
The after-work cocktail event that has taken Brisbane by storm is arriving on the Gold Coast, only at the Island Rooftop!
Take a Friday night deep dive into the world of sublime cocktails at the Savour Series Pop-Up. Sample the punchy, fruity, spicy, bitter and exotic fusions presented by our very own Rooftop mixologists.
The format of 'Savour: Series' is simple! Take a seat at one of the preset tables and let our mixologist come to you. Come up with a group name between your friends and we'll seat you at your own table.
Our Savour Series 'trio of dips with wood fired bread' and 'charcuterie board' are also available to purchase at the Eventbrite checkout.
The Island Rooftop is open until late every Friday with DJs, cold drinks, tasty eats and open-air Gold Coast vibes.
Tickets $20 + booking fee – Get a 50ml sample of all three featured cocktails plus a full cocktail of your favourite.
Check out the upcoming dates below:
—–
The tonic to your gin lust, we're crafting a range of juicy new gin cocktails to send your taste buds wild.
—–
Move over Manhattan and forget about the old-fashioned, we're crafting a range of juicy new NYC cocktails inspired by our favourite four fashionistas from the iconic tv show, Sex And The City.
Savour Sex And The City – Friday 1st July, from 5pm – 7pm
—–
Curl up in your favourite spot and discover your new favourite double-shot, with coffee-infused cocktail creations that will surely perk you up.
Savour Cosy Coffeehouse – Friday 5th August, from 5pm – 7pm
—–
Revisit a bygone era where bootleggers, bathtub gin, flappers and dance marathons flowed freely in the speakeasies. Savour Series transports you to the decade of secret bars and forbidden delights through a tasty selection of cocktails born during the age of prohibition.
Savour Roaring 20s – Friday 2nd September, from 5pm – 7pm
—–
Nothing says paradise like the sweet tropical aromas and colourful cocktails of Hawaii. Celebrate the aloha-state with a sunny selection of bright hues, exotic garnishes and fun-filled flavours.
Savour Luau Pow – Friday 30th September, from 5pm – 7pm
—–
FAQs
Can my group buy individual tickets and still sit together? Yes, come up with a catchy table name between yourselves, then include this table name in the field provided at check-out.
Are there ID or minimum age requirements to enter the event? This event will be restricted to over 18s only.
What's the refund policy? If the venue is forced to close due to COVID restrictions imposed by the Government and the event is cancelled as a result, tickets will be refunded. We do not offer refunds for any other reason. No refund or transfer requests can be processed within 72 hours of the event commencing.