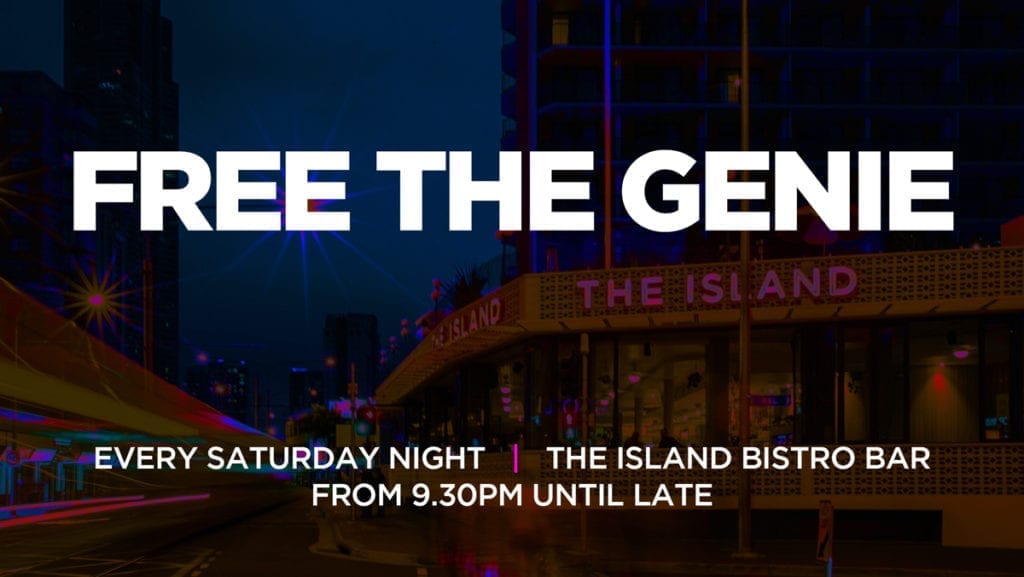 Saturday Night Live – Free the Genie
Join us every Saturday night from 9.3opm in the Bistro Bar for the comfortably unconventional tones of Free the Genie.
2 men and their robot, levelling a fresh path with their unique yet familiar expression of funk. Electro psychedelic live shows governed by groove, science and spontaneity.
Free the Genie
Free The Genie are on a mission to bridge the gaps between band and DJ, man and machine, yesterday and tomorrow. Their live performances have apprehended the attention of the young, the old, the sitters, the dancers, the traditionalists and the progressive.
A team with varied intentions. Ty Burrell (vocals/synth/guitar/production) seeks out texture and emotion whilst fuelling the party with calmness in the cockpit. Jack Letizia (bass/percussion) feathers colour and rhythm into the fuselage, motivating dance floors with a hyperactive pelvis. Natasha the Basher, forged in the Burrell lab to be the foundation. A mechanical drum, a true go getter.
Their inaugural year consisted of a sold out headlining show at the world renowned club, elsewhere, 3 Nautic Giants festivals, the Weird Science Festival, Sounds of Sunday, and regular appearances at elsewhere's sister venue – wherelse. A multitude of gigs were also performed in venues that will one day be thanked for transforming the culture thirsty Gold Coast, such as: Miami Marketta, Aloha Bar, Shark Bar, Mexicali, Platform, Nobbys Arc, Prose Art Space and Los Santos.
They draw upon a diverse and ever expanding range of influences, with Talking Heads, Prince, Bowie, Ratatat, The Rapture, Jamiroquai, Tame Impala and Fleetwood Mac being just the tip of the iceberg. During a Free The Genie set, an honest, jovial and ego-free approach to dance based activity is encouraged. The soundtrack to which will consist of both original compositions and original renditions of songs written by the artists that have shaped their lives.