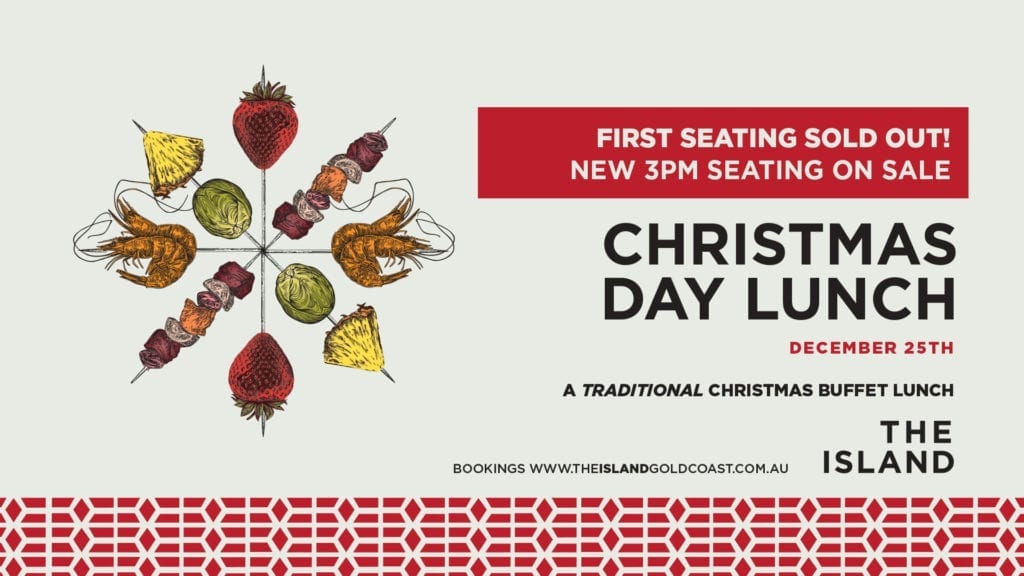 Christmas Day Buffet Lunch
FIRST SEATING OF 12PM – 3PM SOLD OUT.
NEW 3PM SEATING NOW ON SALE!
Seating for the new 3pm – 6pm seating will be on 1) the Pool Deck and 2) the Kids Area. Please make note of your preferred area upon check-out.
Find yourself stranded at the Island this Christmas Day!
Set in the fabulous vintage seaside ambiance of Goldie's at the Island – including the alfresco pool deck and dedicated kid's area – our traditional Christmas buffet lunch will feature succulent roast meats, a selection of fresh cold seafood, seasonal roast vegetables, summer salads and desserts. Drinks may be purchased throughout the afternoon to our dining guests at Goldie's bar.
Perfect for all ages, including the Kids! Christmas Day Buffet Lunch at the Island Gold Coast.
Adults – $129
Children (13 – 17 years) – $69
Children (4 – 12 years) – $49
Children (0 – 3 years) – Free
Goldie's at The Island Gold Coast (ground level)
Christmas Day – 25th December.
_________________________________________
THE ISLAND CHRISTMAS DAY BUFFET MENU
Cold seafood – Whole prawns, oysters
Warm seafood – Whole side of salmon, ocean trout, scallops in half shell, grilled lobster and bugs
Hot traditional meats – Glazed ham, rotisserie chicken, sirloin beef with rosemary, mustard rub and stuffing
Salads – Potato salad, coleslaw, mixed leaf salad and vinaigrette, citrus and endive salad
Vegetables – Roast potatoes, grilled asparagus, bbq corn on the cob, baby carrots, mixed roast seasonal vegetables
Desserts – Christmas pudding, panna cotta, pavlova, panettone, cherries
Plus: Bread rolls, cranberry sauce, gravy, red wine jus, seafood sauce
_________________________________________
Parking available at Bruce Bishop Parking, which is adjacent to the Hotel.
For the second seating 3pm – 6pm, please note any dietary requirements and preferred seating area (Pool Deck or Kid's Area) in the fields provided at the time of purchase.